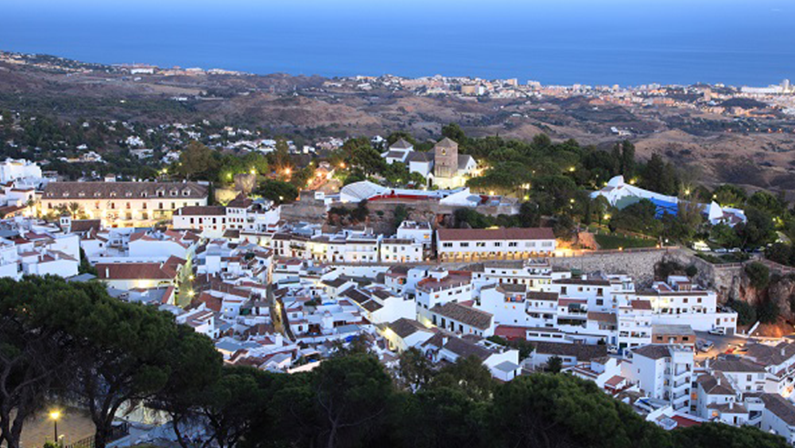 Mijas
This ancient white town is situated on the Sierra de Mijas mountain range, and at a height of over 400 meters above sea level there are stunning views of the region from this vantage point for visitors to see.
---
It is a popular destination for tourists and visitors, and, just a few kilometers inland from Fuenguirola, it is certainly worth a visit. The "white village" is a step back in time, and takes life at a slower pace than on the coast.
---
Follow the signs into the ample multi-storey car park, take the lift up to the centre of town and then set off on foot. There are many shops and restaurants to tempt you to spend a while enjoying your surroundings: be sure to take a walk around the many cobbled narrow streets to capture the charm of the town, and wonder at the construction of some of the houses that have been built on the mountainside.
---
Another place to visit is the hermitage of the Virgen de la Pena, who is the Patron Saint of the village. Built into the rocks, this cave is always decked with flowers and you can discover why the Monks built this hermitage in the 17th Century. The local tourist office is situated in this square as well and can offer advice on what to do and see during your visit.?
---
Mijas is a renowned centre for walkers and local guides can be arranged to help you find your way through the wooded mountainside.
---
Mijas has plenty of local traditions, and celebrates its many festivals and carnivals in style. During the summer, historically every Wednesday, in the centre of town, you may be lucky enough to see a spectacular free flamenco show.
---
As you spend your day here it will become obvious why Mijas has become home to many artists and crafts folk. You may even be tempted to buy a painting, or perhaps a locally made marquetry box or frame, or a piece of "ceramica". You will certainly be spoiled for choice. Mijas is determined that their tourists should not leave empty handed.